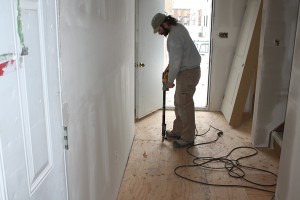 The quality and durability of a surface covering (ceramic, vinyl flooring) are largely dependent on the preliminary preparation of the surface, which allows for better adhesion. Dust, uneven surface, grease, or other undesirable matter on floors prevent adequate adhesion between the covering and the surface. Moreover, a rougher surface will increase its adhesion.
Our experts focus on making sure the surfaces you want to cover are in an ideal state in order for your surface covering to turn out perfect and above all, long-lasting.
Mineault Finition will therefore work at evening out, degreasing, striping, and sanding your surface with appropriate and top-quality products.
Once the covering is installed, you will have the certainty that the project could not have been carried out any better.
Contact us for a free quote!