Interior Door Installation
Our homes are filled with doors that we don't even notice anymore. Yet, just like with crown mouldings, cymas, and baseboards, new interior doors can significantly freshen up your home. A new door will be the finishing touch that will noticeably bring your renovation project to life. A broad range of door designs are available on the market. It all depends on what you want to achieve with the addition of the stylish door.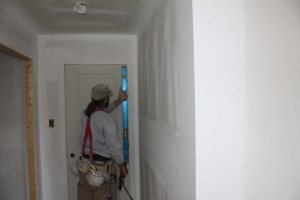 Whether to close a new room, to replace a door that has seen better days, or to install a door that could enhance any type of interior decor, Mineault Finition is here to offer you advice, manpower and above all, the expertise necessary to install your interior doors.
The first step, and the most important one, is to select the right door that fits your style and home decor. A door is not just a door, and the market offers a variety of styles to choose from. To create a sense of openness, select a mirror door; if you want to bring out creativity in your kids, why not select a door that can accommodate a chalkboard; for a classic, sophisticated look, the wooden French doors will do the trick; and for an illusion of a bigger room and to let natural light into the room, choose a glass door.
The selection of the style also involves the selection of the door material. There are almost as many materials as there are styles to choose from: wood, composite, MDF, veneer… if you think there is too much to choose from and feel a little bit lost with the whole selection process, let our experts at Mineault Finition guide you! Remember that we only deal with manufacturers that offer the utmost quality products.
In addition, why not take this opportunity to change or add a frame to your new door? A doorframe – while it may at first glance seem like an insignificant detail – will considerably enhance your home interior's elegance.
Let our experts help you choose your new interior doors and doorframes and, most of all, let them put their expertise and experience to good use in giving new life and sophistication to your home.
Contact us for a free quote!