Baseboard Installation & Moulding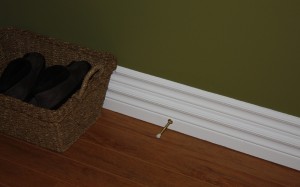 Adding crown-moulding to different rooms in your house will allow dramatically changing your decor and giving it a fresh boost. Obviously, joints between floors and walls are generally already covered with baseboards since they play a functional role of protecting the base of the wall from chock, bumps and jolts (vacuum cleaner, chair legs, etc.) and to mask the joints and cutting details of wall paper and paint between the wall and the floor. Simple, drab and plain baseboards can project a lifeless and inert spirit in a room. Adding a stylish and fashionable baseboard can provide great refinement and elegance to all the rooms in your house this, without breaking the bank. Contact Mineault Finition for any questions related to your baseboard installation in Ottawa/Gatineau.
Baseboards are offered in a variety of materials: wood, PVC, MDF, stainless steel, stucco mould (the choice will greatly rely on your budget). In addition, the combination of choices in style and cuts, without mentioning the choices in colours, is almost endless. It all depends on the room you choose to revamp and rejuvenate and of the style you wish to confer it. Mineault Finition only deals with manufacturers who offer products of the highest quality. Let us help you with your project. We will offer the best advice and tips for choosing your baseboards.
Generally, a baseboard is white. However, a coloured baseboard can give a charming look to the room you choose to rejuvenate. The first step: think of the effect you wish your room to have and of the style you want to confer it. Tip: a dark coloured baseboard on a light coloured wall will allow putting forward the dimensions of the room. Of course, if your room is of smaller dimensions, this might not be the best option. Additionally, a black coloured baseboard can add a chic je-ne-sais-quoi to a room large in size.
On the flip side, a baseboard that is light in colour (white or beige), will give the illusion of making the room bigger.
To note: a baseboard, as for any crown-moulding, should never be painted with a roller. Opt for the paintbrush instead.
Baseboards installation process is very similar to the process used for Ogees and crown-moulding. You are not sure what to choose and how to install? Trust us with your project! We will gladly offer the best advice and carryout precision work with exact attention to detail of utmost quality for your home. We guaranty it!
Contact us for a free quote for your baseboard installation!